Piano chameleons | Mimaculture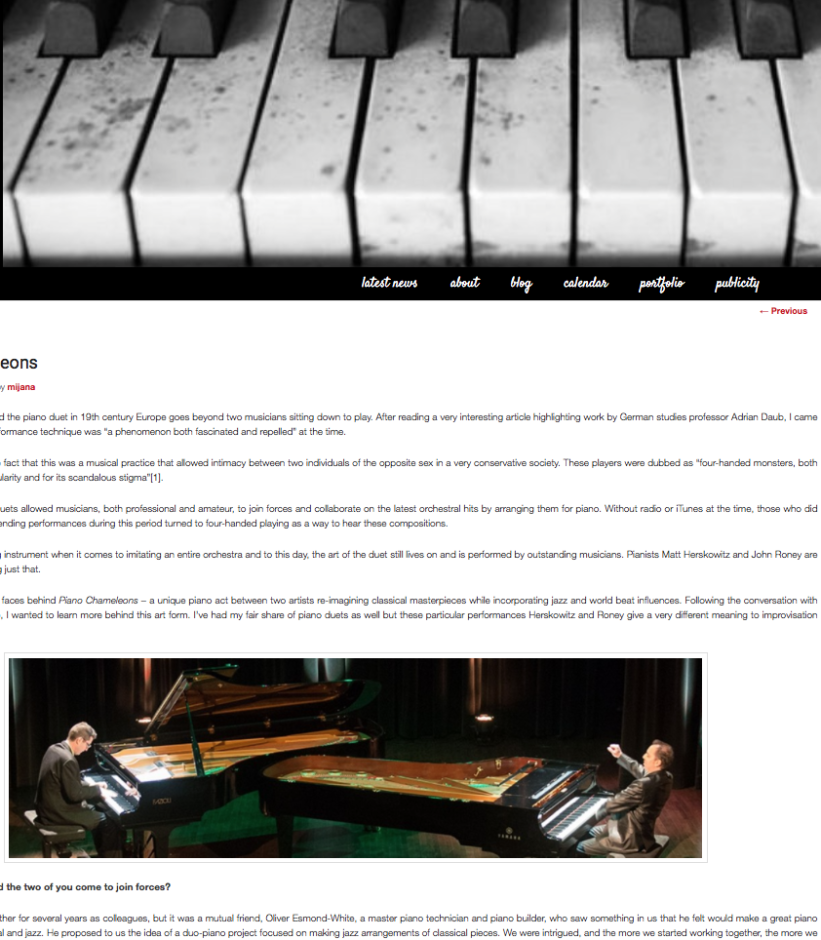 It was repelled due to the fact that this was a musical practice that allowed intimacy between two individuals of the opposite sex in a very conservative society. These players were dubbed as "four-handed monsters, both for the style's raging popularity and for its scandalous stigma"[1].
On its fascinating note, duets allowed musicians, both professional and amateur, to join forces and collaborate on the latest orchestral hits by arranging them for piano. Without radio or iTunes at the time, those who did not have the luxury of attending performances during this period turned to four-handed playing as a way to hear these compositions.
The piano is one amazing instrument when it comes to imitating an entire orchestra and to this day, the art of the duet still lives on and is performed by outstanding musicians. Pianists Matt Herskowitz and John Roney are highly appraised for doing just that.
These gentlemen are the faces behind Piano Chameleons – a unique piano act between two artists re-imagining classical masterpieces while incorporating jazz and world beat influences. Following the conversation with my latest musical intrigue, I wanted to learn more behind this art form. I've had my fair share of piano duets as well but these particular performances Herskowitz and Roney give a very different meaning to improvisation and communication.
MH: We'd known each other for several years as colleagues, but it was a mutual friend, Oliver Esmond-White, a master piano technician and piano builder, who saw something in us that he felt would make a great piano duo in combining classical and jazz. He proposed to us the idea of a duo-piano project focused on making jazz arrangements of classical pieces. We were intrigued, and the more we started working together, the more we liked the results. Oliver then organized some concerts for us to play, motivating us to create more arrangements. Two years later, with a good amount of repertoire under our belts and an amazing team working with us, we're more enthusiastic than ever about creating new repertoire and performing together.
MC: What sets you apart from other piano duos?
MH: First, I believe it begins with the makeup of our duo itself: I'm originally from the classical world, and spent years performing classical recitals in major concert halls, as well as performances and recordings as soloist with orchestras. I learned to play jazz alongside my classical studies, and used to support myself in New York City playing "club dates", background music for special events, with some of the best players there, which was an amazing learning experience for me. I started to take jazz more seriously, and began shifting my focus toward jazz and original music. But I never entirely let go of classical – old habits die hard! I kept one foot in that world, returning there to perform on occasion, which helped keep my classical chops in shape.
John comes from the jazz world, and has toured with some of the best jazz and pop musicians around, as well as headed his own solo projects with various ensembles. We describe our paths as crossing from opposite directions: I come from a classical background, having studied at classical conservatories including Curtis Institute of Music and The Juilliard School, and learned my jazz on the streets. John studied at jazz conservatories, including McGill, Berklee and The Henry Mancini Institute, and learned his classical on the streets! In addition to being pianists, we're also arrangers and composers with many albums under our belts, so we each bring a developed voice and sound to the duo. Another thing that makes us different is that we integrate improvisation into written music, including the original classical pieces, so our arrangements contain both composed and improvised sections, often at the same time; I haven't been able to find many other piano duos doing this. I also like that you can hear our individual styles in our performances; we each have our own distinct harmonic, melodic and rhythmic language, yet they completely blend and compliment each other. Of course, the more we work together, the better they blend.
JR: There are many piano duos that play standard classical repertoire and 'read' as the composers originally intended it, or have adapted for two pianos. The best example of this is the 'soloist/orchestra' combination where one piano plays the solo part, and the other plays a reduction of the orchestra. Both pianists read a verbatim or adapted written version of what the composer put to paper. As per repertoire, most of our music originates from the solo piano repertoire, and required us to arrange and adapt, technically 'compose' a secondary or complimentary piano part for the second piano… and, then we often trade and exchange these parts to balance the ensemble.
In addition to the arranging/composing and adapting parts of organizing our repertoire, we are also both improvising musicians, each with our own unique harmonic, rhythmic and melodic sensibility.In the midst of our arrangements, we leave ourselves space to improvise, and exchange our original ideas 'on the fly'. It can be very exciting sometimes.
View from the other side, there are also many jazz piano duos that improvise and play various repertoire from the spectrum of musical styles. To date, there are NONE that draw from the repertoire of classical piano music, and NONE that perform the material of the music in its original form. In that sense, we are truly a hybrid ensemble – able to perform the music as it was originally notated, and include this into our arrangements/adaptations/advancements of this repertoire for 2 pianos, and improvise new sections and new music on the spot.
MC: Please share your practicing/rehearsal process together.
MH: Given that our arrangements have become quite sophisticated, we get together as often as our schedules will allow. John has a teaching studio at the Université de Montréal, so we've been getting together there to work on and rehearse arrangements. Rehearsing for performances is a very detailed process, as there are lots of interpretive subtleties to work out. We like to divide our roles equally, and take full advantage of the range of possibilities the two piano format allows in our musical exchanges, both written and improvised. But the most fun we have is in creating new arrangements, exchanging ideas back and forth until we agree on something, which always ends up being stronger than our individual propositions. That's where the initial excitement is. Then comes the work of finding the best way to realize and interpret the music we just created, to make the musical vision real. What's also really fun is that, over time, the arrangements continue to evolve as we discover new ideas in performing them, so we're never really finished with anything, even as we continue to create new ones.
JR: There's also John's small office (which has 2 pianos and not much else!).If we're working on a new piece, we will often start out first by jamming and talking about any ideas we have about where to take the arrangement. Sometimes, this process can go quickly, if the idea is very simple (as we have re-arranged some of our repertoire even backstage before showtime, with no piano). Other times, the process can be held up by the limitless possibilities of harmony and orchestration. Lately, we have taken to emailing each other digital scores on 'Sibelius' software to help facilitate the exchange and organization of our ideas. However, the best way to reach a consensus and to move the music forward is simply to get together and play
MC: Explain the selection process when choosing repertoire for concerts.
MH: First, we base our selection process on music that we both love and would have fun arranging. Another criteria is that the pieces be well-known, so people will recognize the music, yet feel like they're hearing it for the first time in the new context. We also try and choose pieces that will compliment each other in concert, as well as include a good variety of musical styles. At one point, we realized we had a bit too much of the same style of repertoire, mostly from the Romantic period, so we decided we should do an arrangement of a piece by an impressionist composer to explore another colour. We chose Debussy's über-famous Claire de Lune, and came up with something that brought a new kind of economy, subtlety and transparency to the music, setting us on a new direction in our collaborations. We've also arranged an entire Beethoven Sonata, the "Pathetique" in C minor. The process of arranging each movement opened more and more possibilities for balancing complexity with simplicity, rich harmonic voicings with more transparent textures, vertical motion with linear motion. The third movement is our tribute to Beethoven's range of contrapuntal prowess, featuring bitonality, register displacement and a double stretto canon-fuga. This arrangement will be on our second, all-Beethoven album – we found that ol' Ludwig really needed his own format, he's just too strong a force to play nice with the others.
There are several concerts booked for 2016/17 season including a tour with Oliver Jones. Upcoming concerts include a performance at Festijazz de Chicoutimi on April 12, another performance with Oliver Jones in Ottawa on May 19th, and several concerts throughout Québec and other parts of Canada. 
For more information visit pianocameleons.com
References:
[1] Sloan,Nate. "Stanford scholar reveals the surprising cultural history of four-hand piano playing." Standford News,RSS, December 8, 2014.
Categories:
Presse